Photo Found On Internet
Having my one and only child born around the time Sesame Street came on the air was fortuitous for us both. Well, I may have enjoyed it more that she. In fact, the runner up program for second place was Saturday Night Live. What a nice time for television viewing.

Here is another example of the "One of These Things" game:

Prim and Proper

Bared Ankle
Boy, do I remember when women could finally wear a pant suit to work instead of a skirt or dress.

Ethnic Apparel

The Nun's Habit which kind of, sort of, reminds me of...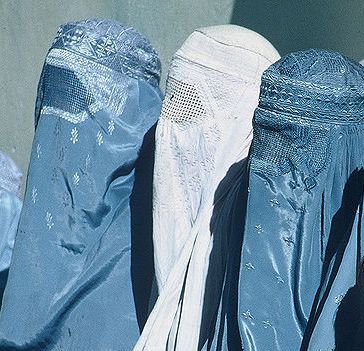 The Muslim Burka
All of the above is to help me illustrate an idea I had while watching Herman "9 9 9" Cain voicing his denial of having participated in sexual harassment. It also reminded me of the denial given by Clarence Thomas to Anita Hill's statement.
Back in the smoke filled rooms of yore, men laughed at these women who said their bosses, for example, had in some way and to varying degrees sexually harassed them. They referred to the women as "sluts, whores, and sometime even c**ts." Some of the words used I won't type and some newscasters won't say. Or, even worse, they will say.
Thinking on this I was reminded of the politically incorrect word "n****r."  This word was said when talking about people of a certain race. The other words were said about women.
Back around the same time as "Sesame Street" the National Organization for Women" was formed. Forty years ago It was and still is a civil rights fight against discrimination against women. The words I listed are just as offensive to women as the racial slur. And yet no one seems to acknowledge it.
The women involved in sexual harassment are often debased and ultimately deemed at fault for the action taken against them. Her apparel is considered: "Her skirt was so short you know what she wanted."
And so, we come to the Muslim Burka. Apparently the women must cover themselves to assure their beauty, their sex appeal to men is not seen. In other words they have to cover themselves up to keep the men in check. Men, it seems, cannot control their sexual urges and so women must be covered from head to toe.
All of this gets to the point that women are a minority. A minority who at one time could not vote, even when male slaves were considered 5/8th of a man. Women could not own property and in fact, were the property of their father or husband. They were property of their husband just as the slaves were.  
I think, as women we need to say "No More" when words are used to slur our name and character. It's about time, don't you think?
Oh, and men need to take responsibility for their thoughts and actions. And control the urge that turns them into breeders.